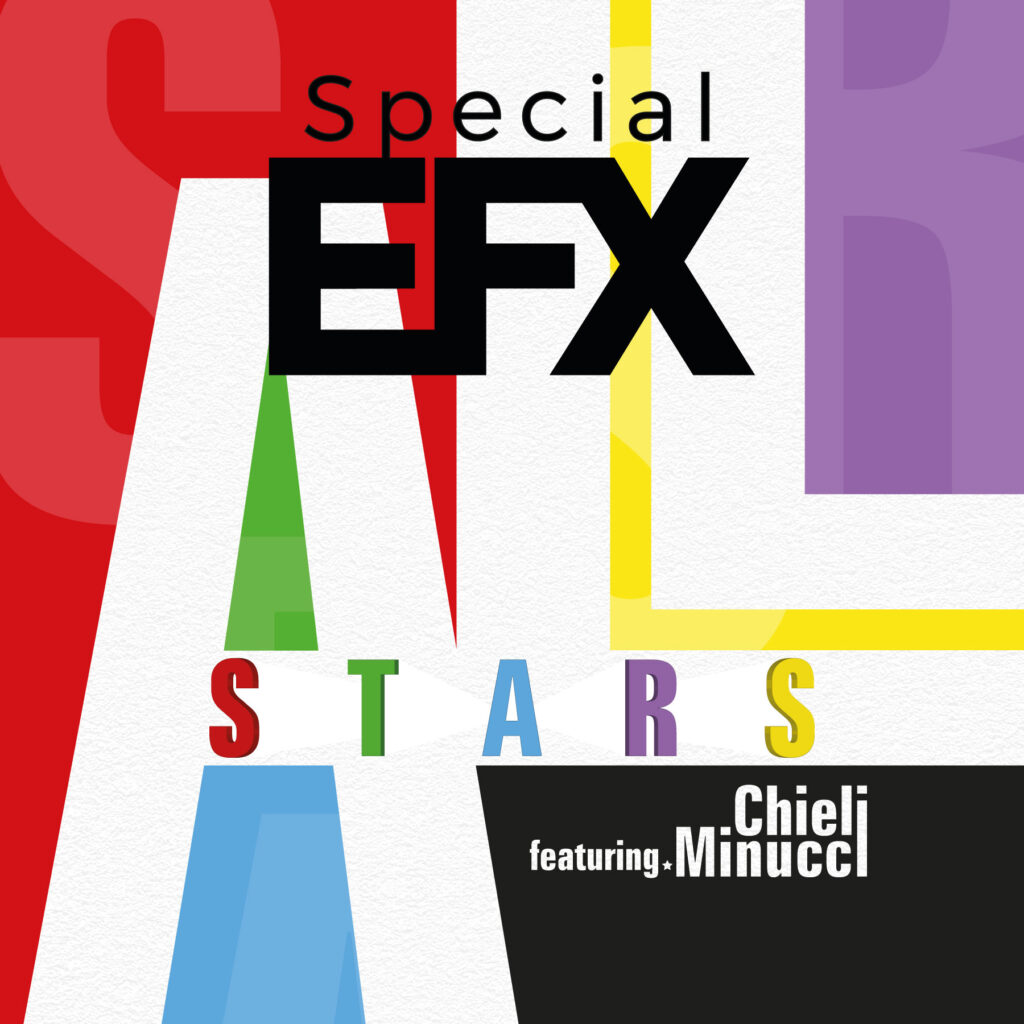 Special EFX featuring Chieli Minucci
1. Mr. Marzipan
2. Sunset Passion Juice
3. Hanky Panky Boys
4. Little Wing
5. Empathy
6. Two Dancing
7. Arise
8. Wake Up
9. Sweet Memories of You
10. Kampala
11. Great Escape part 1
12. Great Escape part 2
13. Flows Like Water
14. One Stick and A Stone
Produced by Chieli Minucci
_____________________
Special EFX featuring Chieli Minucci
All Stars (released 2/2020)

1. Mr. Marzipan
Chieli Minucci – guitars, keys, beats
Jerry Brooks – bass
David Mann – saxophones, flute, horn arrangement, sax soloist
Tatum Greenblatt – trumpet, flugelhorn
Mike Davis – trombone
Lin Rountree – trumpet soloist
Mixed by Dave Darlington at Bass Hit Studios, NYC
__________________________________________
2. Sunset Passion Juice
Chieli Minucci – guitars, keys, beats
David Mann – saxophone
Mixed by Paul Wickliffe at Horizon Studios, NJ
__________________________________________
3. Hanky Panky Boys
Chieli Minucci – guitar, organ, keyboards
Lionel Cordew – drums
Jerry Brooks – bass
David Mann – saxophone, horn arrangement
Tatum Greenblatt – trumpet
Mike Davis – trombone
Eric Marienthal – saxophone soloist
Mixed by Paul Wickliffe at Horizon Studios, NJ
__________________________________________
4. Little Wing
Chieli Minucci – guitars, keyboards, beats
Maysa Leak – vocals
Joel Rosenblatt – drums
Gerald Veasley – bass
Nelson Rangell – saxophone
Mixed by Dave Darlington at Bass Hit Studios, NYC
__________________________________________
5. Empathy
Chieli Minucci – electric & acoustic guitars, keyboards, beats
Fernando Saunders – fretless bass, vocals
Lao Tizer – acoustic grand piano
David Mann – saxophone
Mixed by Paul Wickliffe at Horizon Studios, NJ
__________________________________________
6. Two Dancing
Chieli Minucci – guitars, keyboards, beats
Regina Carter – violin (right – solo 1)
Antoine Silverman – violin (left – solo 2)
Jerry Brooks – bass
Lao Tizer – Hammond organ, piano
Nelson Rangell – flute
Mixed by Paul Wickliffe at Horizon Studios, NJ
__________________________________________
7. Arise
Lao Tizer – acoustic grand piano
Chieli Minucci – guitar
Antoine Silverman – violin
__________________________________________
8. Wake Up
Chieli Minucci – guitars, keyboards, shaker
Nelson Rangell – alto saxophone, flute, piccolo
Jerry Brooks – bass
Joel Rosenblatt – drums
Mixed by Paul Wickliffe at Horizon Studios, NJ
__________________________________________
9. Sweet Memories of You
Chieli Minucci – nylon electric guitar
__________________________________________
10. Kampala
Chieli Minucci – guitar, keyboard backgrounds
Jay Rowe – electric piano
Lao Tizer – acoustic grand piano
Jerry Brooks – bass
Lionel Cordew – drums
Mino Cinélu – percussion
__________________________________________
11. Great Escape part 1
Jay Rowe – acoustic grand piano
Jerry Brooks – bass
Chieli Minucci – guitar
Mino Cinélu – percussion
__________________________________________
12. Great Escape part 2
Chieli Minucci – guitar, keyboard backgrounds
Jay Rowe – acoustic grand piano
Jerry Brooks – bass
Lionel Cordew – drums
Mino Cinélu – percussion
__________________________________________
13. Flows Like Water
Chieli Minucci – guitar
Jay Rowe – acoustic grand piano
Jerry Brooks – bass
Lionel Cordew – drums
David Mann – saxophone
Mino Cinélu – percussion
__________________________________________
14. One Stick and A Stone
Chieli Minucci – guitars, keyboards, beats
Steve Adelson – Chapman Stick
__________________________________________
Musicians
Joel Rosenblatt – drums
Jerry Brooks – bass
Fernando Saunders – fretless bass
Gerald Veasley – bass
David Mann – saxophone, flute, horn arrangements
Nelson Rangell – saxophone, flute
Eric Marienthal – saxophone
Jay Rowe – acoustic grand piano, keyboards
Lao Tizer – acoustic grand piano, keyboards
Maysa Leak – vocals
Regina Carter – violin
Lin Rountree – trumpet, flugelhorn
Lionel Cordew – drums
Mino Cinélu – percussion
Steve Adelson – Chapman Stick
Antoine Silverman – violin
Tatum Greenblatt – trumpet, flugelhorn
Mike Davis – trombone
Chieli Minucci – guitars, keyboard backgrounds, beats, arrangements
___________________________________________________
Music composed, produced, & arranged by Chieli Minucci
Published by Chieli Music (ASCAP), except for Little Wing, composed by Jimi Hendrix
___________________________________________________
pre-production and recording by Chieli Minucci at Baci Studios – NYC
recorded and mixed by Paul Wickliffe at Charlestown Road Studios – Hampton, NJ
recorded and mixed by Dave Darlington at Double D Studios – NYC
mastering by Paul Wickliffe at Skyline Productions – NJ
___________________________________________________
Management
Axis Management – Nelly Neben
[email protected]
www.axismanagement.com
(818) 998-2595
___________________________________________________
USA & WORLDWIDE BOOKINGS
Lao Tizer Music Inc.
[email protected]
+1 (818)590-3163
_____________________________
please visit ChieliMusic.com, and SpecialEFXMusic.com the official website for all things Chieli Minucci, Special EFX featuring Chieli Minucci, and the Special EFX Allstars
Chieli can be contacted at [email protected]
___________________________________________________
Photography:
Chieli Minucci photos by Alex Solca
I'm sending a special shout out to all the musicians who contributed their generous talent to this labor of love & music~
Encores to label brass Les & Bobby Cutmore, and an extra bow to Jeff Lunt from Trippin N Rhythm – I'm so grateful for the artistic freedom you've all shown me.
Standing ovation for my friend, bandleader, pianist and agent, Lao Tizer! Hats off to my longtime manager, Nelly Neben.
Applause to all the supportive industry personalities – radio DJs, programmers, concert promoters and club owners – it's all about sharing the music, playing live gigs, and meeting & knowing our fans!
Thanks to Amanda Jo Nagle for her publicist expertise and social media savvy.
Love to my wonderful family and friends – our day to day experiences together create endless inspiration, motivation, and gratitude~
– Chieli Minucci