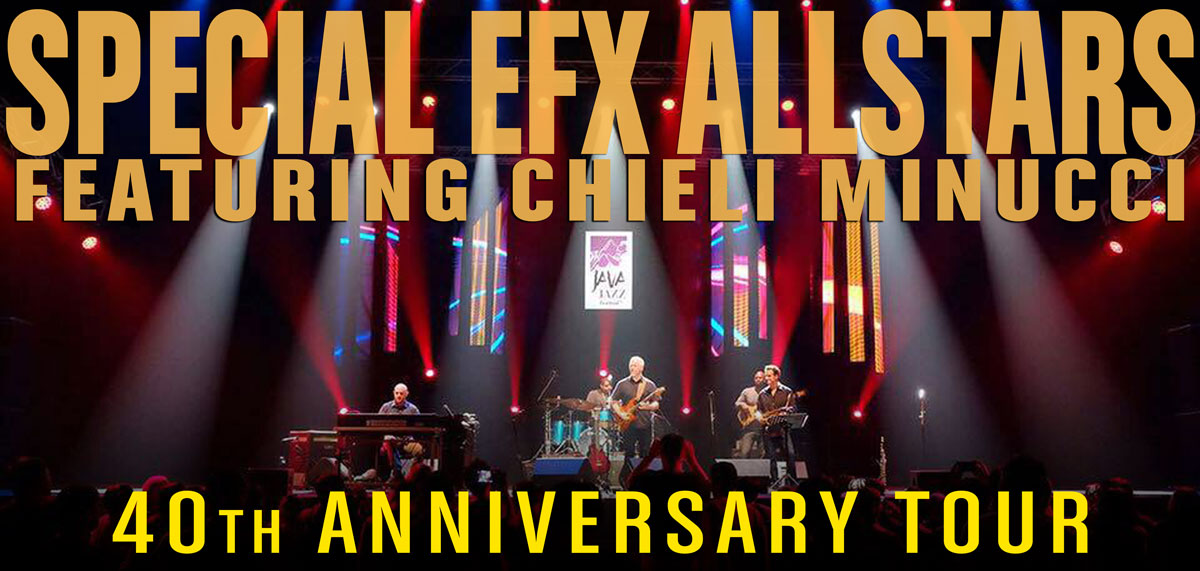 The Band
Available in configurations including "Special EFX featuring Chieli Minucci", and the new "Special EFX Allstars" package featuring a world-class lineup of jazz greats.
Elliott Yamin – vocals (American Idol finalist!)
Maysa – vocals (Incognito)
Regina Carter – violin (bandleader, Aretha Franklin, Lauryn Hill)
Eric Marienthal – sax (Grammy winner, Chick Corea Elektric Band, Elton John)
Nelson Rangell – sax, flute (bandleader, Dave Grusin, Patti Austin)
Karen Briggs – violin (bandleader, Yanni, Stanley Clarke)
Gerald Veasley – bass (Grover Washington Jr, Joe Zawinul Syndicate)
Lao Tizer – keys (bandleader The Lao Tizer Band, Down to the Bone)
Joel Rosenblatt – drums (Special EFX, Spyro Gyra, Michel Camilo)
Jerry Brooks – bass (Special EFX, Destiny's Child, D'Angelo)
Jay Rowe – keyboards (Special EFX, Jessy J, Nick Colionne)
Mino Cinélu – percussion (Weather Report, Sting, Miles Davis)
Lin Rountree – trumpet (bandleader)
Dave Anderson – bass (Bill Evans, Blood Sweat & Tears)

Dave Livolsi – bass (John Scofield, Roberta Flack)
Jeff Kashiwa – sax (Rippingtons)
Brian Bromberg – bass (Grammy nominee)
Highlights
Billboard Magazine's top honors, winning best-song-of-the-year – Deep as the Night
#1 Billboard contemporary jazz song – Lavish
#1 contemporary jazz songs – Dreams, Seduction, Cruise Control
#2 contemporary jazz songs – My Girl Sunday, Kickin It Hard
 Performance Highlights:
Jazz In The Gardens – Miami, FL
Seabreeze Jazz Festival – FL
Spaghettini – CA 
Yoshi's – CA
Dakota Jazz Club & Restaurant -MN
MIM – Musical Instrument Museum – Phoenix
Soiled Dove – Denver
Wiggins Waterfront Amphitheater – Camden, NJ
A Celebration of Black Music – Cincinnati
Catalina JazzTrax Festival – CA
City Winery
John Coltrane Jazz Festival – NC
Beacon Theater – NYC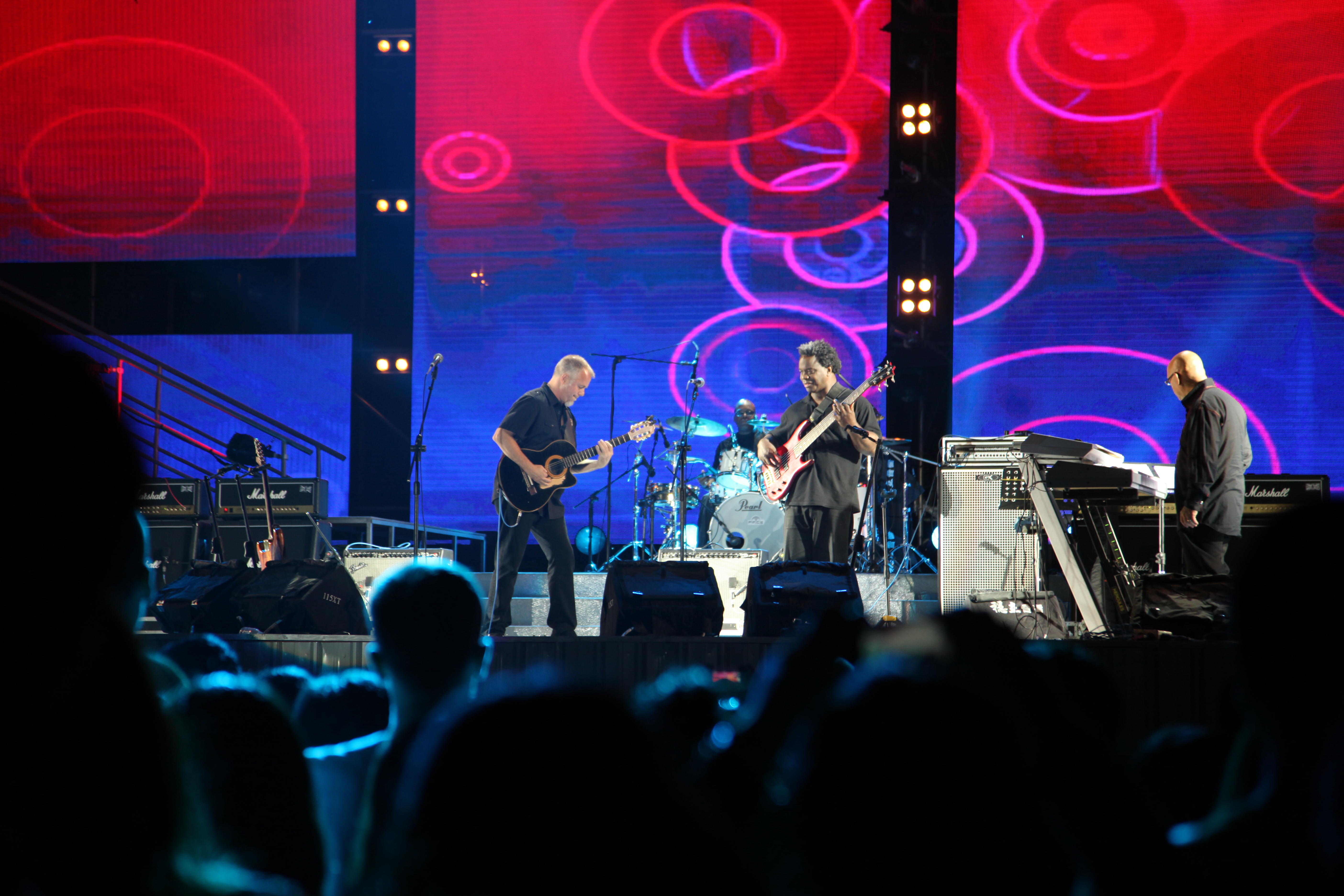 Mallorca Jazz Festival – Spain
John Coltrane Jazz Festival – NC
Berks Jazz Festival – PA
Winter Park Jazz Festival – CO
Queen Mary Jazz Festival – Long Beach, CA
The Bottom Line – NYC
Best Buy Theater – NYC
Greek Theater – Berkeley, CA
Montreux Jazz Festival – Montreux, Switzerland
North Sea Jazz Festival – The Hague, Holland
Grande Parade du Jazz – Nice, France
Umbria Jazz Festival – Perugia, Italy
The Pit In – Tokyo, JAPAN
Java Jazz Festival – Jakarta, Indonesia
West Embankment Music Festival – Shanghai , China
Chieli Minucci
Guitarist, composer, producer, and arranger Chieli Minucci is longtime leader of the Grammy-nominated jazz-fusion group SPECIAL EFX featuring Chieli Minucci, a major force on the jazz and world music scene for over 40 years.

Chieli has just released 2 brand new projects – the solo, acoustic "Someone's Singing", as well as his 40th anniversary Special EFX CD, "Twenty Twenty 2" (both ChieliMusic). Chieli & Special EFX's previous release saw title track, "Deep as the Night", win Billboard Magazine's 2018 top honors, best-song-of-the-year.

Besides writing and performing his own music, Chieli shares his guitar brilliance throughout the entertainment world. He has recorded and performed with many top artists, such as Celine Dion, Lou Reed, Lionel Richie, Jennifer Lopez, Jewel, Mark Anthony, Michael Bolton, Rupert Holmes, Eartha Kitt, Eddie Fisher, Anastasia, as well as contemporary jazz artists Kirk Whalum, Maysa, Jeff Lorber, Norman Brown, Bernie Williams, Marion Meadows, Lao Tizer, Mindi Abair, Rick Braun, Gerald Veasley, Omar Hakim, and many others. Although renowned in the jazz and pop world, Chieli is also a gifted television and film composer. He has won 3 Emmy Awards and been nominated 10 times for his eclectic compositional work. His music can also be heard on the soundtracks of the films No Country for Old Men, Bowfinger, Legally Blonde, Panic, and others. Chieli's original scoring work can be heard in live stage productions of Peter Pan, Dora the Explorer, Thomas the Tank Engine, and others.

Special EFXMusic.com

The official Chieli Minucci website

Additional biographical and discography information can be viewed at:
http://www.allmusic.com/artist/chieli-minucci-mn0000113409/credits


International Movie Database
http://www.imdb.com/name/nm1474265